How to Prepare your Home for Hurricane Season
10/2/2017 (Permalink)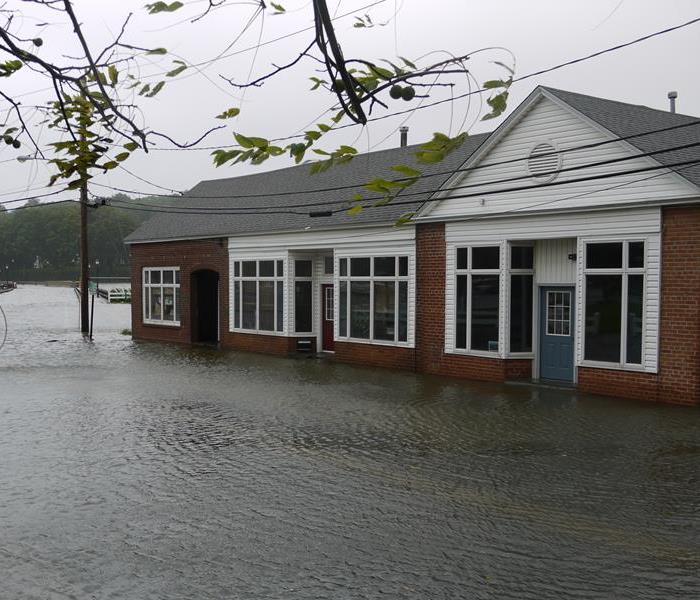 SERVPRO of East Meadow Westbury is #1 company on Long Island for hurricane and storm damage clean up.
How to Prepare your Home for Hurricane Season?
The third quarter of the year has just begun and if you live in a country having frequent hurricanes in the season, it is the high time to get your home prepared to avoid potential losses. Getting your home prepared for hurricanes takes money and time, but since the storms are still weeks away, you can reduce your potential expenses by early planning. The measures you take to prepare your property for expected hurricanes, safety-proof landscaping and plan insurance coverage, make you and your family safer in the season and in years to come.
Understanding Hurricanes Basics
Hurricanes, also called typhoons and cyclones, are high-scale storm systems developed over the oceans or seas, striking lands. They usually accompanied with heavy rainfall, high-speed wind, flooding (inland & coastal), storm surfer, tornadoes and rip currents. The United States, especially all Atlantic and Gulf of Mexico coastal areas, the U.S. Virgin Islands, Puerto Rico, Hawaii, Pacific Coast, states in Southwest and Pacific U.S. areas, face coastal storms, heavy rains, floods and hurricanes every year. The Atlantic hurricane period starts from June, running till November end, with peak periods from mid of August till October.
Getting Your Home Prepared
There are numerous ways to get your home prepared to withstand the downpours and high-velocity winds brought by hurricanes. Some are very easy to adopt. For instance, cleaning our gutters, repairing leakages, creating indoor storage spaces for putting outdoor furnishing under shelter etc.
Fasten the roof of your home to the home's frame by using hurricane clips or straps. This reduces potential roof damage.
Use Head & Foot bolts on doors
Putting head and foot bolts on your entry doors give them extra protection against rain and wind. Install bolts both at the top and bottom.
Use Window Covers & Storm Shutters
Commercially made windows covers or storm shutters made from heavier and reinforced marine plywood, should be used to cover windows and sliding doors.
Make sure that your carports, decks, porches, sheds and entry canopies are well-maintained and firmly attached.
This implies trimming your shrubs and trees, if you have a lawn or a garden around. This makes them more resistant to wind, helps saving plants and reduces the extent of damages from windblown limbs or falling.
Replace gravel with the shredded bark to refresh gravel paths and drive. This is because windblown gravel may damage structures.
Keeping a portable generator helps avoid problems arising out of power outages during hurricanes. Keep generators and other power/heat sources outdoors, at least 20 feet away from your windows and doors. Put them under some shelter to prevent them from moisture.
Caution: Never power your home wiring by plugging your generator into a wall outlet.
Keep an Eye on "Hurricane Watch"
Hurricane watch implies the probable conditions within next 48 hours. Follow these guidelines during hurricane season:
Listen to local officials' news about your evacuation routes
Keep your disaster supply kit complete and updated in view of household needs and family members' requirements
Follow Hurricane Warning on Time
Hurricane warning implies the probable conditions within next 36 hours. Follow these guidelines during hurricane season:
Follow evacuation orders as announced by the local officials
Check-in by using social media or texting friends
Follow Hurricane checklist, based on when the hurricane is expected and its impacts
If you are living in a non-evacuation area, stay at home during hurricane
Stay away from glass doors and windows
Put refrigerator and freezer to the coldest temperature and don't use them unnecessarily
Keep listening news about latest updates and emergency situations
Keep your communication devices in a working condition.
After the Hurricane…
Don't walk through flood waters
Watch out for downed power lines and debris
If you have an insurance coverage, take snaps of damages in a safe manner
If you are aware of the expected damages and plan your home's safety before hurricanes actually strike, you can surely keep your family and property safe and sound. Call SERVPRO's of East Meadow / Westbury's professional home emergency restoration technicians and experts for consultation and tackling emergency situations.