Winter Damage Your Business May Sustain
2/7/2021 (Permalink)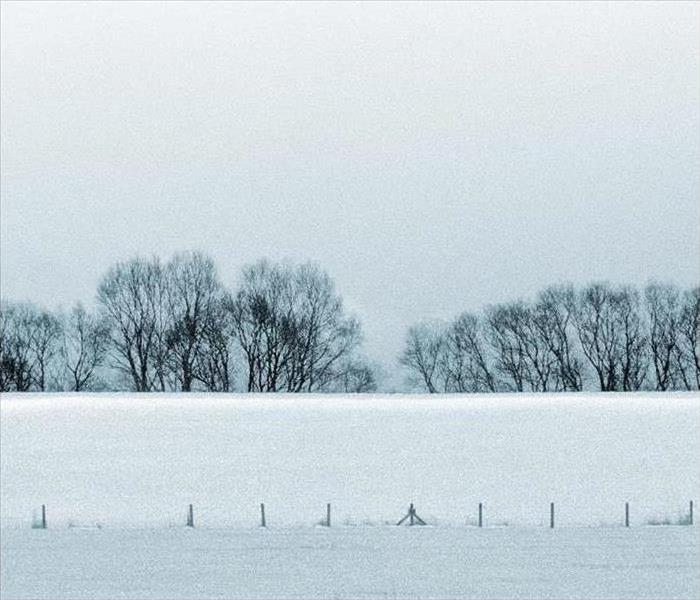 During the winter, there is a lot of damage that can occur to your business due to the harsh effects of the season. While there are some things you can preemptively do in order to prevent this home damage, it is important to know that there are some instances that are beyond your control, or skillset to repair. Learning about these damages will help you effectively prepare for damage and potentially minimize the impact it has on you.
Ice
Ice dams are one of the most common types of ice damage that you can have at your business. Ice dams happen when the snow on your roof melts as the temperature rises for a few hours, generally during the day and then refreezes when the temperature quickly drops again. This melted ice moves into your gutters and under your shingles and causes a damn as it refreezes. This can cause additional water damage due to the fact that the water doesn't have any place to go. These ice dams can damage your shingles, roof and gutters to the point where they will need to be replaced if the ice dam isn't taken care of quickly. Additionally, it can cause interior leaks, which can lead to costly repairs and mold growth.
Snow
If you let snow build up on your walkways and driveways, this can lead to personal injuries and create a big problem. When snow gets stuck in the cracks of concrete, it can melt and eventually turn into ice. Once it turns into ice, it will expand and has the potential to crack or dislodge the concrete that makes up your walkways -- the same thing goes for the exterior walls of your building! This damage can be expensive, and most importantly, can cause a loss in profits as your business operations are halted.
Leaks/Flooring Damage
If you have leaks in your roof, you are more than likely also going to have some serious flooring issues due to the water traveling once it's inside. This water damage can leak down on wood floors, causing weakened beams and planks, which can result in irreversible damage. This is a danger to your business that should be addressed quickly -- especially before it affects the livelihood of your operating hours, and ultimately, your sales!
Dealing with the reality of home and business damage can be devastating, and we know first hand how hard it can be to return to normal life while this is going on. At SERVPRO of East Meadow/Westbury, our goal is to relieve your stress by handling the entire process of remediation from start to finish. If you're interested in learning more, give us a call at 516-334-2927 24 hours a day, 365 days a year.